ABOUT US
Hotel Ostseestern in Kühlungsborn
The Baltic resort of Kühlungsborn, also called the "Green City by the Sea", is one of the most popular holiday destinations on the Baltic coast in Mecklenburg Vorpommern and welcomes you with a unique atmosphere.
The "Hotel Ostseestern" in the classic style of spa architecture with its dreamlike location is only a few steps away from the Baltic Sea, directly in the first row of Kühlungsborn on the popular and 3.2 kilometre long Kühlungsborn beach promenade, which invites you to walk, stroll, enjoy and linger.
Whether for a family holiday, short trip or weekend getaway, the Baltic resort of Kühlungsborn offers guests young and old, young and young at heart an atmosphere of relaxation and recreation by the sea.
Treat yourself to some time out with us on the coast and feel the sand under your feet, the wind in your hair, the salt on your lips and the sun on your face and enjoy the dreamlike view of the Baltic Sea.
DISCOVER
Room & Bungalow
As varied as the seasons are at the Baltic Sea, as different are our rooms.
Seasonal times
High season: 01.05 - 30.09
Low season: 01.10 - 30.04
Bungalow with kitchen & terrace
Our bungalow provides a special holiday feeling. Enjoy sunbathing on the bungalow's lush terrace. Look forward to relaxing days in our house! The view of the beach and the Baltic Sea on the one side and the green of the city forest on the other will quickly make you forget about everyday life.
Bathroom with bath & shower
Separate children's room
Fully equipped kitchen
Price Per Night High Season
from €180
Price Per Night Low Season
from €160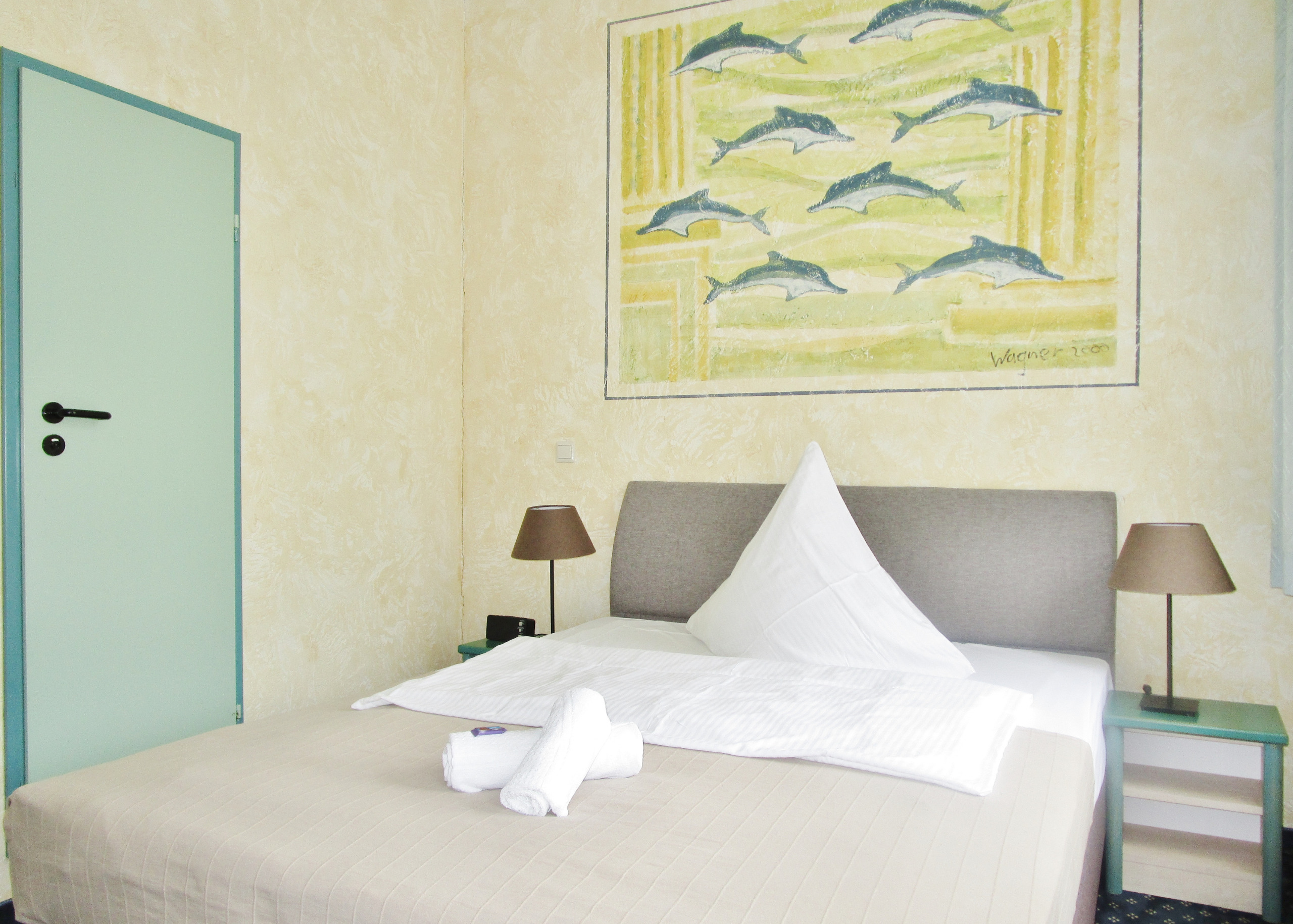 Single room
For those travelling alone, we have furnished cosy rooms in the attic. As with all rooms, a comfortable bathroom is a matter of course, as well as first-class sleeping comfort.
Private bathroom
Single bed (1.40 metres)

TV/radio, telephone and shower/WC
Price per night (high season)
from €90
Price per night (low season)
from €70
Double room
The double rooms in our house have different sizes. In the upper rooms you are at the height of the treetops of the narrow coastal forest strip & can see the Baltic Sea.
Private bathroom
Double bed

TV/radio, telephone and shower/WC
Price per night (high season)
from €120
Price per night (low season)
from €90
Family room
Our family rooms with three and four beds and a spacious living-sleeping area with beds for the parents is complemented by a small separate bedroom for the children.
Private bathroom
Single & Double & Bunk Beds

TV/radio, telephone and shower/WC
Price per night (high season)
from €140
Price per night (low season)
from €120
Food & Drink
Room & Restaurant Service
Daily seasonal breakfast
From 07:30 to 10:00 you can start the day relaxed with our rich breakfast buffet.
A la carte, you can enjoy a varied culinary experience in our Cypriot restaurant Famagusta or in one of the numerous restaurants in Kühlungsborn for lunch or dinner. We will be happy to help you with table reservations. Just get in touch with us.
Information
Facilities & Offers
Free WLAN
For surfing, receiving and sending emails.
Free parking
Available for you directly behind our hotel.
Sleeping comfort
Sleep like at home? With us, guaranteed with quality beds & mattresses.
Reception
We are there for you from 8 am to 2 pm.
Restaurant
Would you like to reserve a table? Please contact us. 
Terrace
Enjoy the fresh Baltic Sea air, directly from your own terrace.
and many other facilities and services.
Our dedicated team will be happy to answer any questions you may have about your holiday in Kühlungsborn.
Do you have any questions?
Talk to us!
Information
Experiences, Attractions & Surroundings
Here you will find an overview of some of the countless things Kühlungsborn and the surrounding area has to offer for you.
Restaurants
Place of interest - "Molli" bathing train
Would you like a short train ride on the historic "Molli"? The nostalgic 900-millimetre narrow-gauge railway, a technical monument and tourist attraction at the same time, takes you to Germany's oldest Baltic resort Heiligendamm, for example.
The "Molli" continues its journey past the oldest racecourse on the European continent to Bad Doberan. Here you will find the Doberan Minster. It is one of the most beautiful and architecturally mature works of medieval brick architecture in northern Germany.
Sport & Leisure
In Kühlungsborn you will find plenty of offers for varied holidays: whether you prefer a musical listening pleasure or special spinal wellness, a sweaty tennis match or a refreshing surf course - in Kühlungsborn (almost) every wish will be fulfilled.
Water sports and active on land
On the beach there are beach volleyball courts and trampolines for children, surf schools offer equipment and courses. Would you like to go diving? You can take trial courses at the diving school and also go on an extensive dive in the Baltic Sea.
In the town you will find a bowling alley, a mini-golf course and a tennis court, as well as bicycle rentals (the Baltic Sea Coastal Cycle Route runs directly through Kühlungsborn). The climbing forest in the middle of the Kühlungsborn town forest challenges both the little beginner and the experienced climber on six different courses.
Horse riding, golf and swimming fun
In the immediate vicinity of the Baltic resort of Kühlungsborn, you can play golf, go horseback riding and enjoy swimming in any weather.
Pony rides for the little ones, riding lessons on the outdoor arena or in the indoor riding hall, a horseback ride or carriage ride through the beautiful nature - there is sure to be a suitable offer for you too.
In the fun and leisure pool "Wonnemar" in Wismar with a 25-metre swimming pool, a children's pool and a wave pool, water slides, sauna world and more, the whole family will get their money's worth.
Creative on holiday
Let your creativity run free in courses for photography, video, printmaking, painting or pottery. Get to know the beautiful surroundings on guided hikes or bike tours, on carriage or horse-drawn carriage rides - especially in spring and autumn, the variety of colours in nature is a great experience! We will be happy to provide you with further tips and suggestions.
Shows & Entertainment
Kühlungsborn offers a varied and changing programme of events all year round. In addition to the traditional spa concerts, you can experience an international guitar festival, classical music, jazz, folk and blues. The Kunsthalle (former Art Nouveau reading room from 1913) presents annual exhibitions of great painters.
Families & Children
Fun on the beach
The Kühlungsborn beach with its soft sand offers plenty of space for building sandcastles, collecting shells and throwing Titscher stones. The water near the shore is shallow for a long time, so your parents can relax and watch you try swimming and diving. An adventure playground near the beach awaits young and old conquerors.
Off to the fun pool
You could also persuade your parents to come with you to Wismar. Here, the "Wonnemar" fun pool provides the ultimate bathing experience with Germany's largest slide tower, waves, children's pool and all the trimmings.
Bowling fan?
In addition to bowling, you can also play billiards, darts or air hockey here, and delicious drinks and food await you in our cosy lounge.
Enjoy a few wonderfully relaxing hours at "Beast Bowling"!
Experience great holiday days
When the sun takes a break - here are a few tips for you: How about a ride on the steaming and puffing "Molli"? The old railway runs through the middle of the town in Bad Doberan.
Or a visit to the zoo? Rostock Zoo is home to 1,500 animals and there are show feedings every day. There are also large playgrounds to explore and the "Magic Animal Trail" and a drop of water to follow from source to mouth.
Day Trips - Rostock & Wismar
The old town of the Hanseatic city of Wismar was included in the UNESCO World Heritage List in 2002. Particularly interesting are, for example, the Old Swede, the town hall and the Schabbellhaus.
In the Hanseatic city of Rostock, the largest city in Mecklenburg-Vorpommern and home to the oldest university in northern Europe, we recommend the Rostock City Harbour, St. Mary's Church with its world-famous Astronomical Clock and the Rostock ZOO. Here, many animals, nature trails and various children's playgrounds delight guests young and old.
Super hotel, perfect location, parking in the private car park, perfect hygiene, rooms very clean and the staff are great! Breakfast is plentiful. I will be very happy to come back.
Nice hotel between the beach and the city forest with rooms and flats for 2 to 4 people. Nice and friendly staff. Clean rooms. Rich and balanced breakfast buffet. Prices are okay, especially if you book directly. Clear recommendation.
Very nice, reasonably priced hotel with all comforts in a prime location about 100 metres from the beach and a perfect breakfast directly in the adjoining Cypriot restaurant. Very friendly and courteous staff. Gladly again !!!
We had a room with a double bed. Everything seems neat and clean. The staff is friendly throughout. The hotel also has its own car park. The location is sensational. It is only a 2 minute walk to the beach. The pier and the tourist shops are also within walking distance. In the whole, a very good hotel.
Hotel Ostseestern is an ideal hotel for a relaxing stay. The breakfast in the hotel's own restaurant Famagusta is well-balanced and varied. The staff is super friendly. People with enthusiasm are at work here. We are now regulars and visit this cosy hotel more and more often. Just try it out!